Adhesive labels laser cutting system
Oriental Technology Solutions is offering roll to roll adhesive label die laser cutting system LC-350.
Manufacturer – Golden Laser.
Laser system is equipped with Rofin 160W or 300 W or 500 W CO2 laser and ScanLab galvoscanners with dynamic focus covering 350×350 mm processing field.
Maximum cutting speed is up to 80 m/min, maximum web width 350 mm.
Winding/unwinding, tension control units are based on French company Merobel components.
Systems is provided with appropriated controller including software and user interface.
Conventional paper based adhesive labels, as well plastic or labels with metal coating can be cut using the system LC350.
Available options with varnishing, lamination and slitting units.
Golden laser is offering more compact labels cutting system LC230 with 100W CO2 laser and 230 mm webwidth.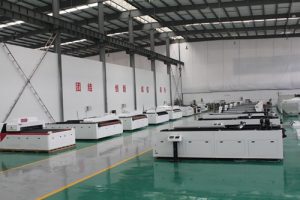 About manufacturer. Golden Laser is manufacturer of professional laser equipment with focus on light industry. Company has started his activity in year 2002. Golden Laser is listed in Shenzhen exchange stock since year (stock code 300220). Laser systems are equipped with lasers from worldwide known manufacturers Coherent, Rofin ir Synrad, Scanlab galvoscanners, Hiwin positioning systems. Golden Laser manufacturing base is located in Wuhan, Hubei province, famous by Wuhan Optics Valley, largest laser and photonics equipment manufacturing hub of China.
More detailed information about LC350 and LC230 systems is at manufacturer website.